WHAT HAPPENS WHEN A LAMP BURNS OUT?

OLD STREET LIGHT with LIGHT BULBS E40/E27 Maintenance time: 5 minutes
In order to perform maintenance of Old street lights with E40/E27 light bulbs, both in case of standard maintenance (burnt out lamp) and non-standard maintenance (loss of brightness) all it took was to replace a BULB.

NEW LED STREET LIGHTS Maintenance time: 18-40 minutes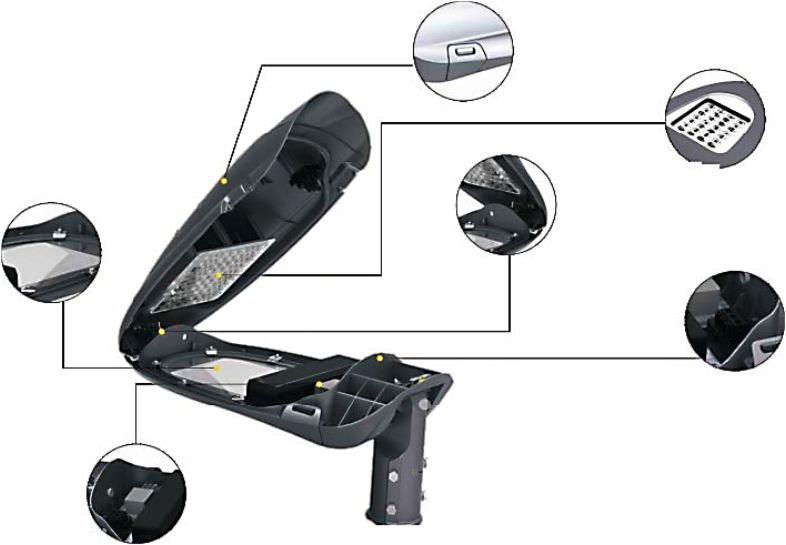 New LED street lights, apart from being significantly heavier, consist of several components:
ALUMINIUM HOUSING
LED PCB / LED MODULES
DRIVER / POWER SUPPLY
CABLES AND CONNECTORS
GLASS
FITTING SCREWS
In all cases, each repair requires replacing of one of the indicated components by means of a telescopic platform lift, at the standard height between 8 and 12 meters.
In case of partial fault, at the height of 8-12 meters it is necessary to identify the faulty components and carry out the following actions to replace of a defective part:
OPEN THE STREET LIGHT HOUSING
(by unscrewing the screws or releasing the cover hooks)
SEARCH FOR AND IDENTIFY THE DEFECT
CARRY OUT REPLACEMENT/ REPAIR OF THE DAMAGED COMPONENT
CLOSE THE STREET LIGHT HOUSING
(by screwing back the screws or hooking the cover)
THIS IS THE PRESENT METHOD…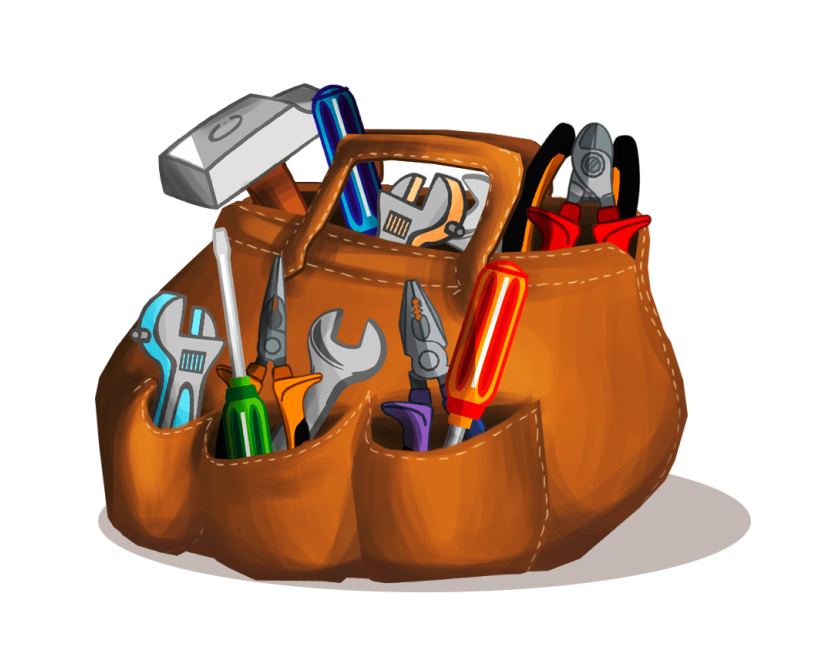 PROCEDURE IN CASE OF DAMAGED FEEDER
1) Open the lamp housing
2) Disconnect input cables 230 V with a screwdriver
3) Unscrew the damaged feeder
4) Disconnect low-voltage cables (+/-) with a screwdriver
5) Place the new feeder back in its spot
6) Connect input cables 230 V with a screwdriver
7) Connect the low-voltage cables (+/-) with a screwdriver
8) Close the lamp housing

EXAMPLE LENGTHS OF INTERVENTION TIMES, ACCORDING TO DIFFERENT STREET LIGHTS PERFORMANCE
Normal Maintenance time: 18 – 40 minutes
A) Feeder replacement
– If equipped in fast connectors: APPROX. 20 minutes
– If NOT equipped in fast connectors: APPROX. 30 minutes
– If a LED PCB is soldered to the feeder: APPROX. 40 minutes
B) LED PCB replacement
– If it is equipped in fast connectors: APPROX. 18 minutes
– If it is NOT equipped in fast connectors: APPROX. 30 minutes
– If a LED PCB is soldered to the feeder: APPROX. 40 minutes
– If Street Light is with LED Modules: APPROX. 18 minutes
C) Whole Street Light replacement: APPROX. 25 minutes
The time shown, indicate in approximate average values, bearing in mind the type of movable platform, experience of the operator, weather conditions.
Each service requires intervention of 2 operators on an aerial platform, with the use of tools (screwdrivers, testers, soldering irons etc.) and is carried out at the height of 8-12 meters, often in unbeneficial weather conditions occurring at such height: wind, low temperature, rainfall and possible threats such as:
RISK OF TOOLS FALLING
DAMAGE OF STREET LIGHT
RISK OF ELECTRIC SHOCK
RISK OF ERROR IN WIRING
LACK OF POSSIBILITY OF IMMEDIATE VERIFICATION OF THE CONDUCTED WORK

THIS IS


The Poleclick device has been created with the purpose of shortening the time of maintenance
of LED street lights, park garden lights and many other outdoor LED lights.
Shortening the time of replacement it mean decreases the costs of maintenance and to
improve the efficiency of public lighting systems.
POLECLICK CONSISTS OF 2 PARTS: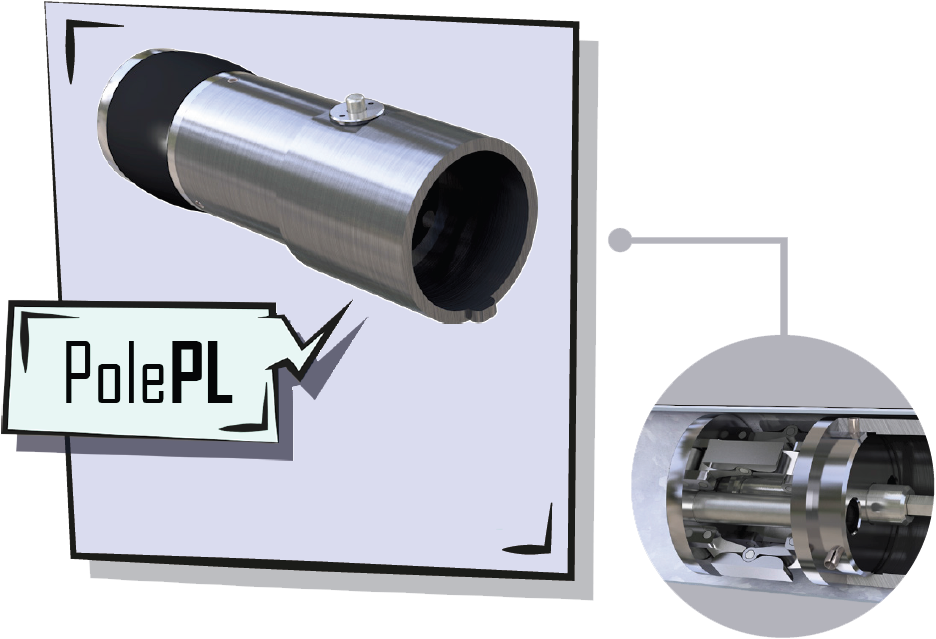 FAST LOCKING
WITH BAYONET SYSTEM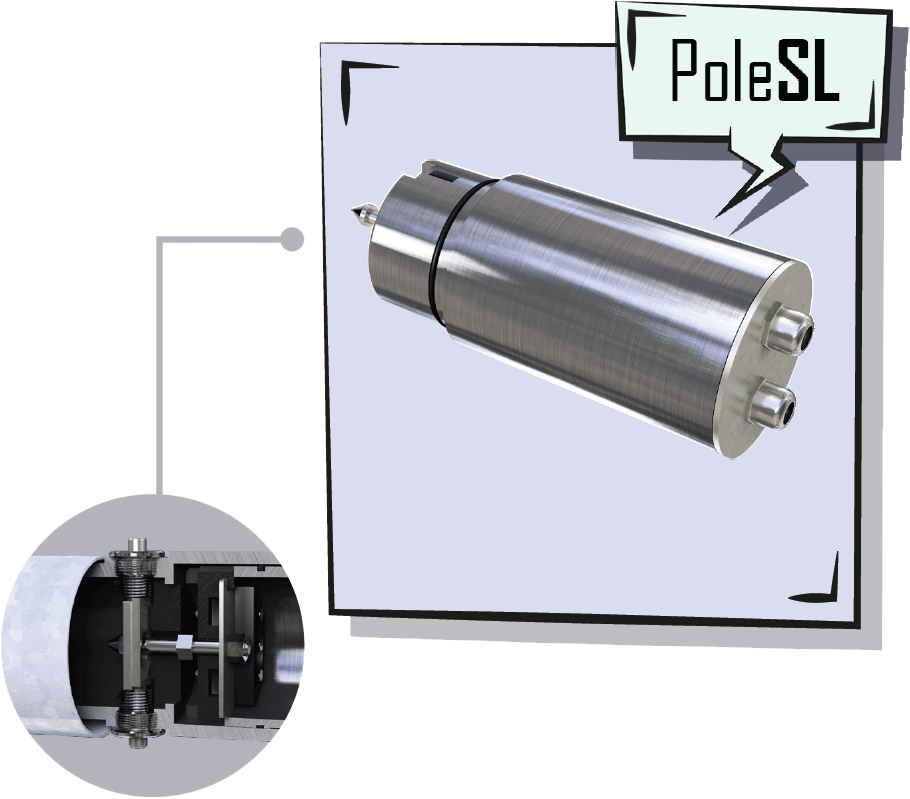 INSTALLABLE ON EVERY
DIAMETER OF POLE'S ARM
IT MAY BE INSTALLED
HORIZONTALLY / VERTICALLY / ON WALLS
Also not just with street luminaire.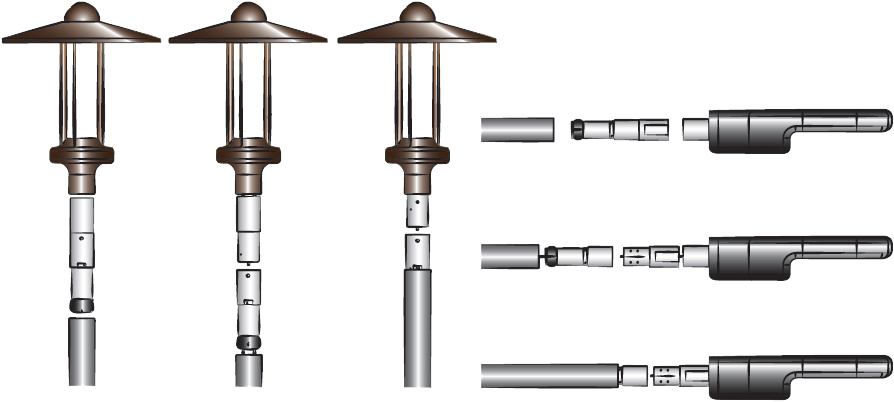 WITH ALL LED STREET
LIGHTS BRANDS
Available in different versions
WITH EXPANSION MECHANISM
FOR THE WALLS
FOR INDUSTRIAL APPLICATION
FOR TUNNELS
FOR INTERNAL POLES
FOR EXTERNAL POLES
… and you may ask for it to be installed already at the supplier's facility.
IT'S TOOL FREE FOR
ALL LUMINAIRE BRANDS


THE NEW PATENTED DEVICE


Enables fast and easy replacement of street lights. Reducing servicing time and limiting the duration of occupying the road lane. Speeds up and optimizes the servicing works of public street lights.
Less Pubblic roads with Broken street lights
Shortens the LED Street lights replacement time to approx. 10 minutes (including going up and down the movable platform)
Time saving = Money saving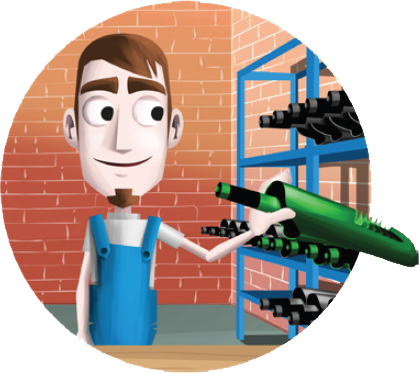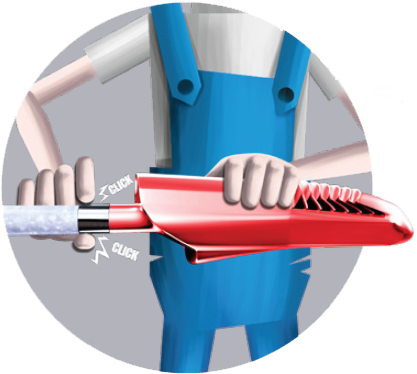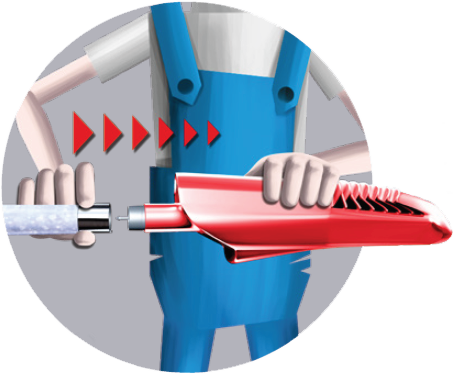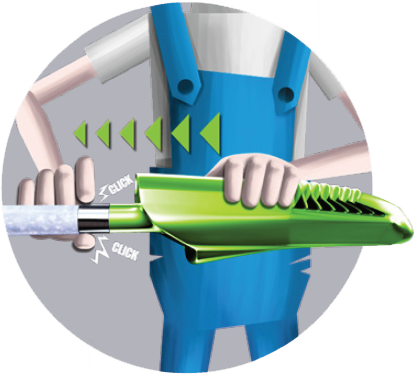 Allows to avoid street lights maintenance at the height of 8-12 meters, decreasing the risk of work on heights.
Greater work safety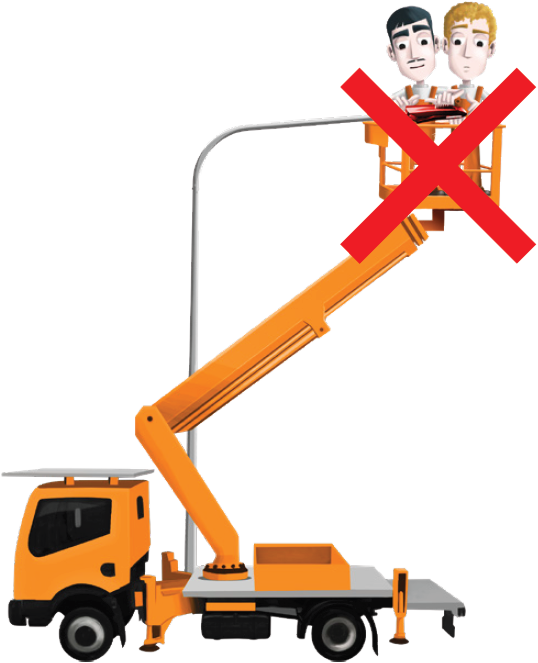 Only 1 operator required
Saving human resources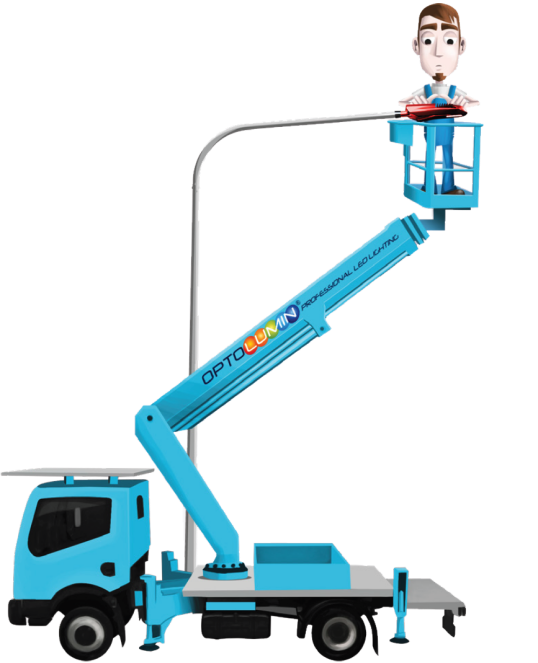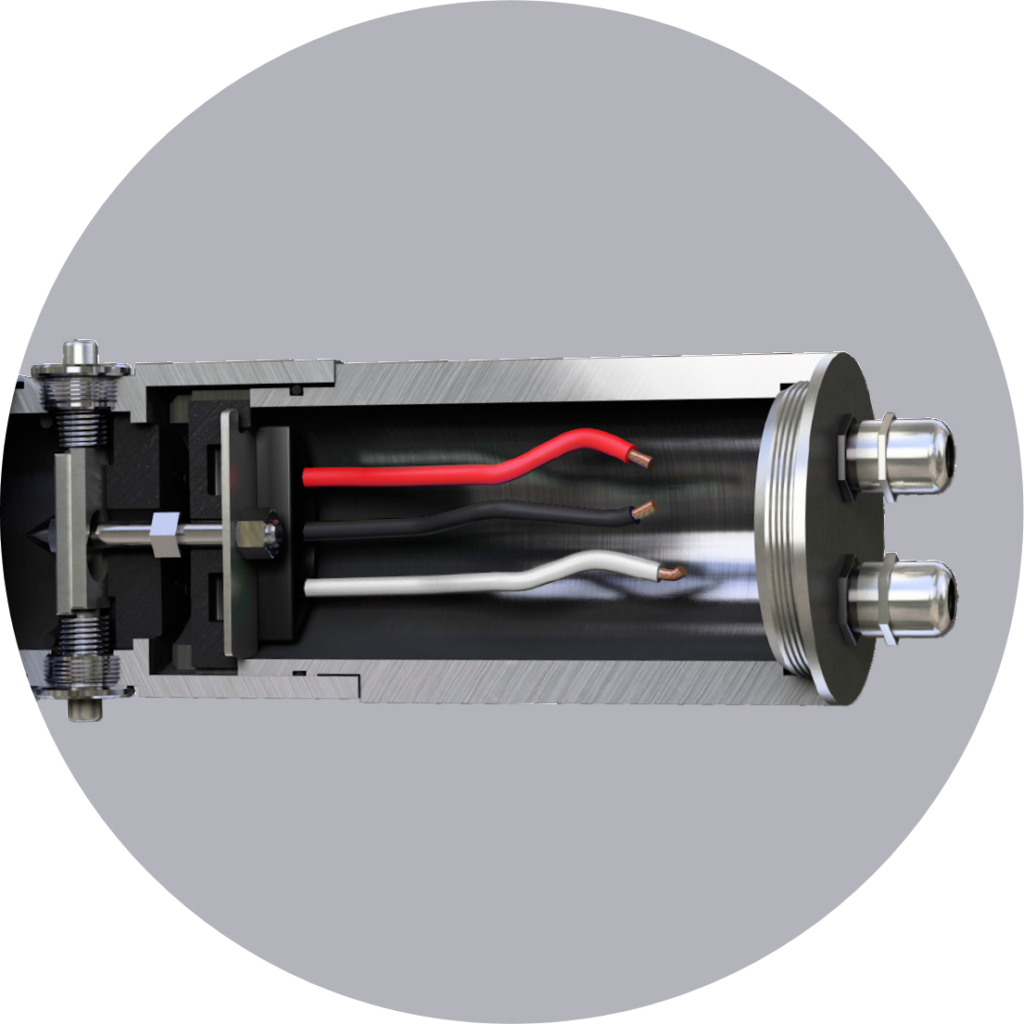 Compatible with all current steering systems.
IT IS EQUIPPED IN 6 OR MORE CONNECTORS,
designated for data signal in various applications which enable the
possibility of steering the dimming function and controlling and monitoring
the lights, as well as monitoring the street lights remotely.

WHAT HAPPENS WHEN THE LED
STREET LIGHTS END LIFE CYCLE IS COMMING
AND ALL NEED TO BE REPLACED?
LED diode lose their brightness with the passing time… and a time will come when many street lights will have to be replaced with a new one. Using our Poleclick device, replacement of many LED street lights will be:
Replacement of 100 pcs street lights
WITHOUT Poleclick
Average time: approx. 21 minutes*
21 minutes x 100 pieces = 2100 minutes = 35 hours
35 hours/8 working hours =
4,5 WORKING DAYS
WITH Poleclick
Average time: approx. 10 minutes*
10 minutes x 100 pieces = 1000 minutes = 17 hours
17 hours/8 working hours =
2 WORKING DAYS
OVER 50% of time and human resource savings
Poleclick is designated not only for servicing the light systems, two elements: POLE PL and POLE SL may be mounted on the poles as well as on LED lamps before installation on the road, which significantly speeds up the realization time of projects related to replacing traditional light systems into LED-based ones.
Poleclick cooperates with LED lamps of class I and II. Installation of Poleclick system is simple and the advantages of its installation are substantial. It is available in various versions in order to meet the client needs. Even in case of launching new technologies, Poleclick will always be up-to-date since it is flexible as well as universal.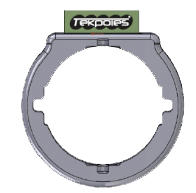 FIRST INSTALLATION TEMPLATE